Below are some of the B2B magazine articles I have written for printing-related trade magazines and associations over the past five years. Most of these stories discuss how the ongoing digital transformation of the printing industry is affecting business models, workflows, and marketing opportunities for printing firms and creative entrepreneurs.
Big Picture: Kinks in the Wide-Format Supply Chain
Material shortages caused by pandemic-related disruptions to global supply chains are wreaking havoc for print-business owners accustomed to delivering graphic projects within a matter of days. This article examines some of the causes and possible solutions.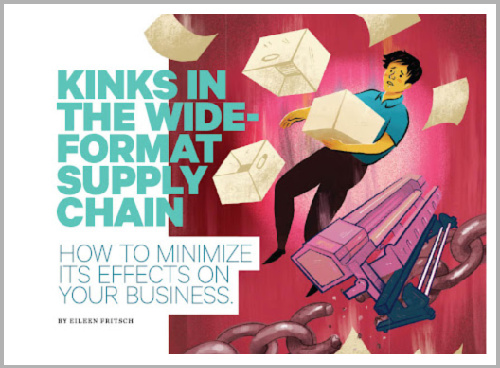 Wide-Format Impressions: Looking Down is Looking Up: What's Next for Floor Graphics?
Before the pandemic, floor graphics were expanding beyond utilitarian signage into highly creative designs for store branding, experiential marketing, and immersive museum exhibits. Now that more people are looking to the floor for instructions, awareness of other applications may increase.
Wide-Format Impressions: Tales from the Print Shop: Why Businesses Choose Wide-Format UV-Inkjet Printers
Breakthroughs in printheads, LED-UV curing systems, media handling, software and UV ink formulations have enabled equipment designers to create benchtop, flatbed, hybrid flatbed/roll-to-roll, and superwide roll-to-roll UV printers for a huge range of volumes, applications, and production requirements. Representatives from three very different print-service providers explain why they chose specific models.
Wide-Format Impressions: What You Should Know About Printed Electronics for Wearables
Just because the word "printed" is part of the phrase "print electronics" doesn't mean that you can quickly add printing electronics to your wide-format digital printing services. This is especially true in the market for wearables, where printed circuits must remain functional even when the garment is stretched or washed. Although inkjet printers that use nanoparticle conductive inks can be used to develop and test prototypes, there are some good reasons why screen printing is likely to remain the most common method of higher volume commercial production.
Wide-Format Impressions: Re-imagining Retail Design
Retail store design experts explain why changes in shopper behavior and advances in digital signage are changing the types of printed graphics used in store branding.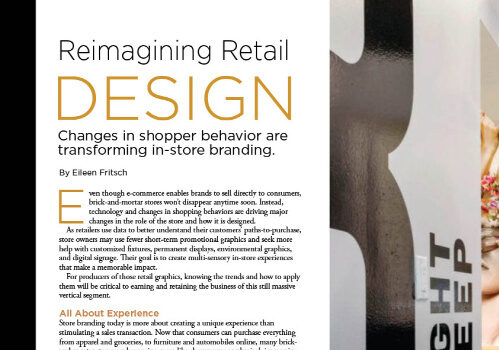 Wide-Format Impressions: Fabric Art for Entertainment Venues
Printing fabric art for theater stages and theme parks is different than producing retail or trade show graphics. The designers who craft sets for theaters, TV productions, and theme packs typically have theater-art backgrounds and different design objectives.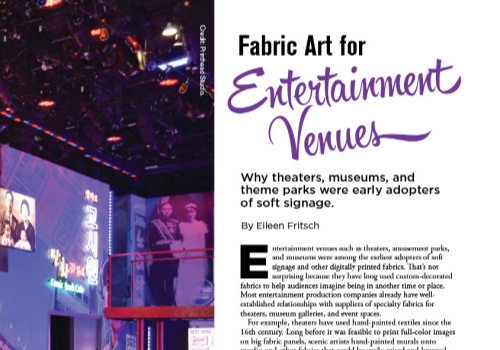 Wide-Format Impressions: The Art of Museum Exhibit Design
To serve buyers of museum graphics, it's important to understand how exhibits are designed and what role printed graphics will play. This article features insights from creative directors that specialize in exhibit planning and interpretive design as well as a print-service provider that has been producing museum graphics for more than 25 years.
Packaging Impressions: Exploring Opportunities in Narrow-Web and Shrink-Sleeves
Modern narrow-web presses offer label-printing companies a gateway into the expanding markets for flexible packaging and shrink sleeves. Although the label market is healthy and growing, label converters with narrow-web presses that can print on unsupported film can expand their customer base by learning how to create flexible packaging or shrink sleeves.
Wide-Format Impressions: Alternative OOH Advertising Grows When Data Show Which Formats Are Most Successful.
Out-of-home advertising has grown well beyond billboards, bus wraps, and transit shelters. Thanks to advances in geo-fencing and mobile messaging, advertisers can measure the results of ad campaigns on ride-share vehicles, wrapped cars, and truck-side ads that travel designated routes within a city. Experts from the OOH agencies Wrapify and Do It Outdoors explain how.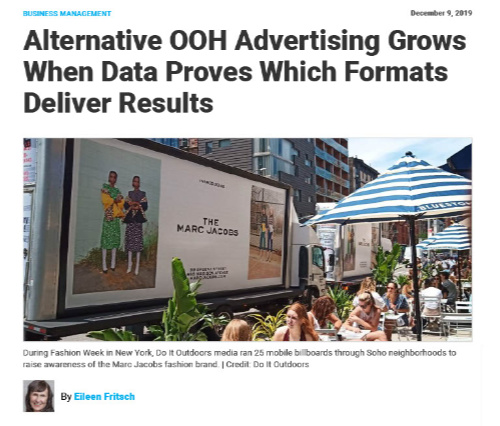 SGIA Journal: Materials Create the Event Experience
Because events help organizations build awareness, memories, and emotional connections, event designers want more than printed environmental graphics. They want creative ideas that can help them plan and shape the attendee's overall experience. This article reviews some of the newest developments in flexible and rigid materials, as well as innovative materials that support sustainability goals.
Screen Printing: Growth in Wearable Technologies
Screen-printing companies skilled in printing electronics are benefitting form the continued growth of wearable technologies, such as skin patches, VR/AR devices, and e-textiles.
Wide-Format Impressions: Transit Advertising – Creativity is Everywhere
Transit advertising is experiencing a surge in creativity, thanks to advances in printing technologies, improvements in results-measuring technologies, and the proven ability to drive traffic to mobile marketing channels.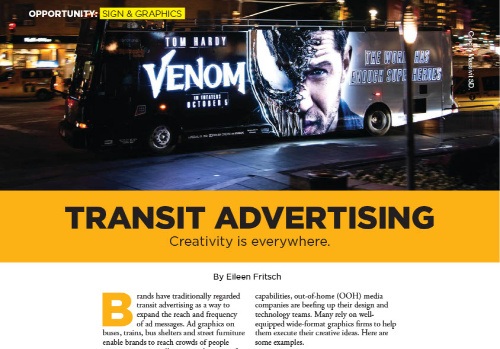 SGIA Journal: Achieving Innovation in Large Format Graphics
An interview with the visionary CEO of Signs.com Kirk Green. One of the earliest adopters of wide-format printing technology now runs a totally automated wide-format graphics production facility that processes thousands of orders from businesses and consumers each week.
Screen Printing: Is UV-LED Right for Your Screen-Printing Shop?
Although relatively few new screen-printing presses are being built, a growing number of screen-printing firms would like to replace the old mercury vapor curing systems used with screen presses with UV-LED curing units. The economic, environmental, and safety benefits are hard to ignore.
Wide-Format Impressions: Demystifying Functional Printing
While major manufacturers are buying custom-built industrial inkjet printing systems for internal use, many smaller manufacturers and start-up companies need help from print shops that use direct-to-object and direct-to-shape printers or have expertise in printed electronics.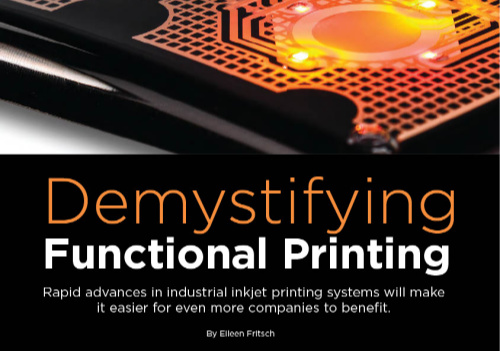 Wide-Format Impressions: Trade-Show Graphics Set the Stage for Face-to-Face Brand Experiences
Buyers of trade-show display graphics expect print shops to offer ancillary services such as booth design, storage, shipping, and set-up.

Wide-Format Impressions: A Peek into Retail Store Window Design Trends
Producers of window graphics are finding creative ways to combine printed graphics, 3D-printed elements, and digital signage to create eye-catching visuals for storefront window displays.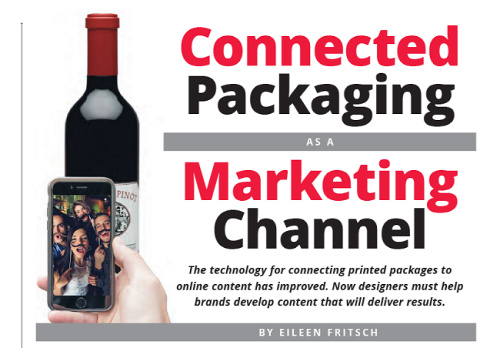 Big Picture: Connected Packaging as a Marketing Channel
The technology for connecting printed packages to online content has improved. Now, designers must help brands develop content that will deliver results.
SGIA Journal: Rethinking Fast Fashion
The fashion industry is being transformed by e-commerce and social media. Companies that digitally print garments and textiles will be well positioned to thrive, whether consumers continue to buy a high volume of low-cost garments from "fast-fashion" companies or fewer, more customized garments that are made to order.
SGIA Journal: Why Digital Textile Printing Is Preparing to Take Off
A new generation of industrial-grade, high-speed inkjet printers is enabling digital textile printing to expand beyond "soft signage" and into fashion apparel, upholstery fabrics, and home textiles.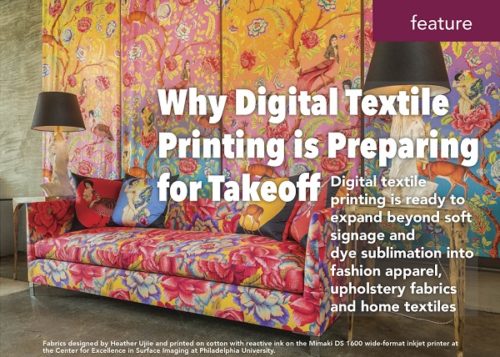 Screen Printing Magazine: Clothing Becomes Electric
The Internet of Things is changing the way fashion designers think about textiles and manufactured garments. Electronically interactive 'smart clothing' could help everyone from infants to the elderly live safer, healthier lives. Screen printers are playing an important role in researching what's possible.
SGIA Journal: Reworking Your Production Workflow
As commercial print providers expand into wide-format graphics, they want to continue to use automated PDF-workflows for pre-flighting file-preparation errors, meeting brand color standards on multiple devices, and setting up finishing files during prepress.
Screen Printing Magazine: An Update on Direct-to-Garment Printers
An overview of direct-to-garment printers for all types and sizes of businesses.
American Way Magazine: Art Collecting 101
In this article in American Airlines' in-flight magazine, gallery owners, collectors, and consultants explain why buying art should be exhilarating, not intimidating.
Professional Artist Magazine: The State of the Art of Art Reproduction
An overview of the digital and traditional methods of printing art reproductions.
SGIA Journal: Compact UV-LED Printers Take Inkjet Printing to New Heights
Smaller flatbed printers make it possible for more businesses to print images and graphics on three-dimensional objects.
Wearables Magazine: Success in Screen Printing-Fast Screening
How computer-to-screen systems can save apparel decorators time and money.
SGIA Journal: Old-School Screen Printing in the Digital Age
A growing community of artists and designers is enthusiastically experimenting with good old-fashioned screen printing.
ONLINE NEWS
For the online platform of a Cincinnati-area TV station, I wrote a "Cincinnati is Creative" series that profiled regional authors, ad agency leaders, graphic designers, and photographers.
WCPO.com: High-Heeled Success Founder Teaches Women How to Conquer Business World
WCPO.com: An Interview with the Experiential Design Firm Kolar Design in Cincinnati
WCPO.com: 9 Ways to Spark Your Creativity During Cincinnati Design Week
WCPO.com: TEDxCincinnati aims to connect Tri-State residents with ideas worth spreading
TECHNICAL WRITING
Before working as an assistant editor at Screen Printing magazines, I worked in the public affairs office of the NASA Lewis Research Center in Cleveland. I edited the bi-weekly newsletter, wrote speeches for the executive director, and helped the Public Affairs staff develop press kits related to research conducted aboard space-shuttle missions.

NASA Press Kit: Space Plasma Module Interactions Experiment on Space Shuttle Columbia
The press backgrounder for STS-62 describes an experiment that NASA Lewis Research Center scientists conducted to gather data for the design and construction of the Space Station power system.