While handling a mix of feature-writing, reporting, and content-marketing assignments in 2018, I gathered updated information about a variety of printing-related topics and enjoyed hands-on experience in in web publishing, SEO, and marketing automation for B2B e-commerce.
EDITORIAL ASSIGNMENTS
My articles were published in Big Picture and Screen Printing magazines published by ST Media Group, the SGIA Journal published by the Specialty Graphic Imaging Association (SGIA), and Wide-Format Impressions, published by NAPCO Media. Below are links to some of my 2018 published articles.
BIG PICTURE MAGAZINE
Connected Packaging as a Marketing Channel
The technology for connecting printed packaging to online content is improving. Now, designers must help brands develop content that will deliver results.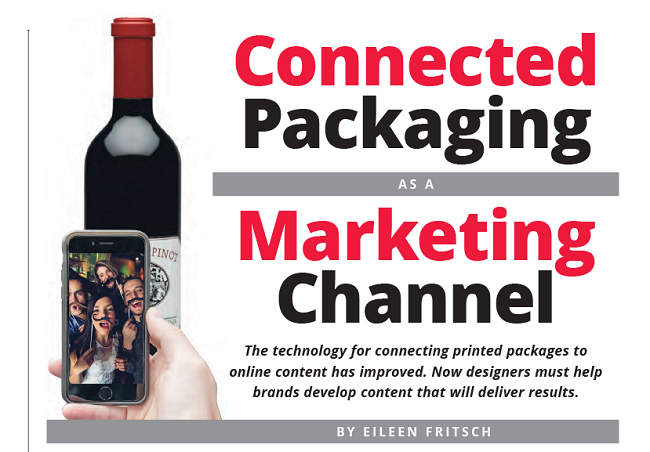 SCREEN PRINTING MAGAZINE
Update on E-Textiles and Smart Clothing
Brands are researching various ways to integrate electronics with textiles. The smart fabrics will be used in everything from ski clothing, jean jackets, gloves, yoga pants, and sports bras to hospital pajamas, infant wear, uniforms, mattress pads, fire-protection gear, and automotive upholstery.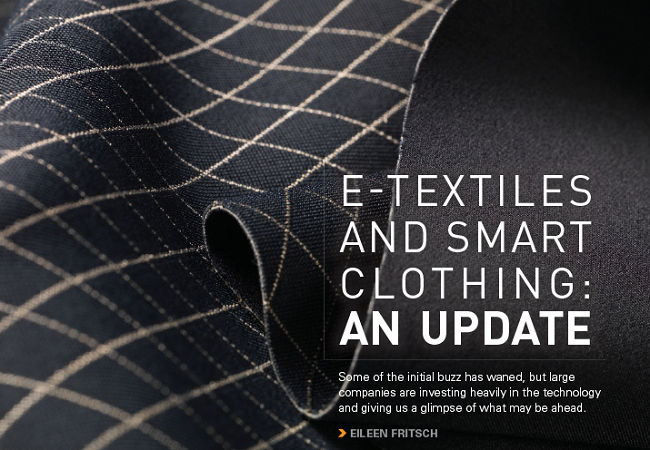 Watch for Ongoing Improvements in DTG Inks
Although new ink formulations continue to improve the performance and versatility of direct-to-garment inkjet printers, it will be awhile before DTG inks match the robustness, versatility, and affordability of today's screen-printing inks.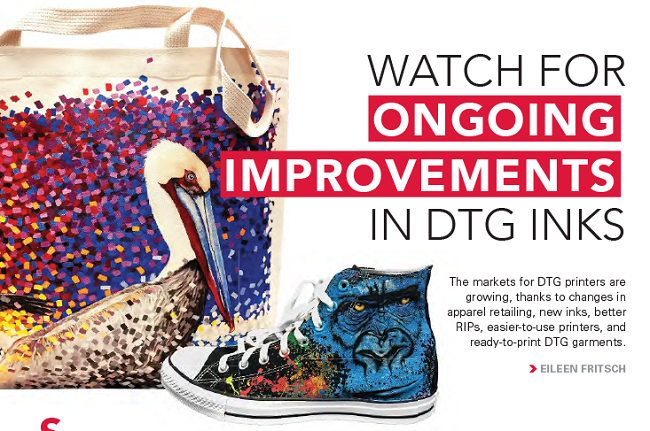 SGIA JOURNAL

A Crash Course in Marketing Automation
An overview of software for creating and executing data-driven, multi-channel marketing campaigns. The newest programs enable you to map out personalized campaigns that combine printed direct mail, email, social-media, text messaging, voice, and microsites.
What You Should Know About Web-to-Print Software
As the popularity of B2B and B2C e-commerce continues to grow, print-service providers are building online storefronts for the huge variety of products that can be digitally customized and printed on demand.
The Reinvention of Advertising Agencies
Why the proliferation of marketing channels and technologies are forcing advertising agencies and printing firms to redefine their business models.

Who's Getting Into Packaging?
The demand for custom packaging for online and offline promotions is creating new opportunities for print-service providers.
Rethinking Fast Fashion
The future of the fashion business may be ultra-fast and super-customized. Or, it could become slower and more focused on less wasteful consumption. Either ways, companies equipped for digital textile printing are poised to benefit.
WIDE-FORMAT IMPRESSIONS MAGAZINE
A Peek into Retail Store Window Design Trends
As brick-and-mortar stores evolve to provide a seamless experience with their e-commerce sites, some retailers are re-imagining storefront window displays.
It's a Great Big World
How travel and tourism bureaus are using large-format graphics and out-of-home advertising as part of multi-channel and experiential marketing campaigns.
SGIA EXPO SHOW DAILY
I welcomed the opportunity to join NAPCO Media's on-site editorial team for the daily summary of events, ideas, and new products at the 2018 SGIA Expo.
My assignments included a round-up report on the conference educational program, plus stories related color management, online marketing, new dye-sublimation transfer paper, digital cutting systems, and selecting wide-format inkjet printers. Even though the deadlines were tight, it was fun being part of a collaborative on-site team that worked hard to produce a magazine that was in attendees' hands the next morning.
Other articles I worked on for Wide-Format Impressions, included:
Selling Printed Garments to Schools and Universities
To break into the complex, fragmented decorated apparel market for colleges and schools, print-service providers should understand the basics of licensing, e-commerce, and merchandising, as well as different types of fabrics, garments, and decorating processes.
Printing Fabrics to Inspire, Impress, and Inform Travelers
Travel and hospitality companies are using different types of printed fabrics for everything from backlit signs and exhibits in airports and museums to hotel furnishings such as bedspreads, upholstered furniture and roller blinds.
Thanks to the editors who gave me these fantastic assignments in 2018: Denise Gustavson of NAPCO Media; Steve Duccilli and Adrienne Palmer of ST Media Group: and Kate Achelpol of SGIA. Having served as an editor myself, I understand the challenges of their jobs and how important it is to have reliable freelance help.

I greatly appreciate the dozens of technology consultants, product managers, creative directors, and print-service providers who agreed to be interviewed for these stories.
CONTENT MARKETING
Throughout 2018, I continued to work for an established B2B e-commerce company that supplies multiple brands of inkjet media to users of aqueous wide-format inkjet printers.

My responsibilities included developing and publishing website content, writing segmented e-newsletters and email promotions, and creating blog posts and educational content. In the process, I learned how to use Oracle-Bronto and Oracle-NetSuite software and gained hands-on experience with automated e-mail campaigns, landing-page creation, and SEO tactics.
In addition, I wrote more than 40 blog posts for a software developer and provided marketing support to a national manufacturer of digital signage.
AWARD
The Academy of Screen & Digital Printing Technologies honored me with a 2018 Best in Class Swormstedt Award for Excellence in Technical Writing. I won the award in the "Specialty Graphics/Business/Global Technology" category for my Print MIS article "Whipping Your Data into Shape" that appeared in the December/January 2017 issue of Screen Printing magazine.

As a writer, it is a thrill to be recognized by such an experienced and esteemed group of printing business leaders.
WHAT'S NEXT?
In 2019, I've written a Wide-Format Impressions article about trade-show graphics and am writing an article about new developments in inkjet materials for event marketers.
If your business has projects that could could benefit from my journalism and content-marketing experience, please call me at 859-426-0481 or connect on LinkedIn.