The older you get, the less eager you are to update the headshot on your LinkedIn page and social media feeds. But it's important — especially for freelance writer like me whose reputation requires credibility.
Although I am proud to be a "mature" or "seasoned" professional, I don't want to look older than I feel. I certainly don't want anyone to think I'm ready to retire.
So, I hope my new head shot makes it clear that I want to continue working and learning for years to come. It was created by head shot photographer Kim Dalton during the final weeks of 2018.
I met Kim several years ago when I was writing a series of profiles called "Cincinnati is Creative" for WCPO.com. I was one of the freelance writers the Cincinnati broadcast station hired to help beef up their online content with local feature stories and profiles. I contacted Kim after noticing that her photographs of Cincinnati depicted the city in an entirely fresh way.
She remembered me because that story on WCPO.com attracted thousands of visitors to her website. So when Kim contacted me to let me know she now specializes in head-shot photography, I was immediately intrigued.

In her excellent blog post "Why Do I Need a Professional Headshot?," Kim emphasizes that today a head shot is your first impression: "Would you go on an interview or to work, in your swimsuit, college hoodie, or favorite Hawaiian shirt? In most cases, you wouldn't. But I see people doing this every day with their headshot."
Dalton illustrates her point by showing the difference between some of the head shots her clients had posted on LinkedIn before and after they came to her studio for a professional head shot. The "before" photos were perfectly fine, but the "after" photos really make a statement. And it's clear Kim can work her photographic magic on professionals of all ages.
Like many writers, I hate having my portrait taken. Most photos make me look as stiff and uncomfortable as I feel. To save money, I experimented with taking selfies that I could crop and edit on my own. But that approach failed, because my instinct was to go overboard with the retouching.
After reading Kim's blog post and viewing her before-and-after pictures, it was clear Kim takes a different approach to head shot photography. So when she invited me to visit her studio for a shoot, I couldn't resist.

Before our appointment, she gave me clear, detailed instructions on what type of clothing to wear, depending on how I would like to be portrayed (business executive, business casual, or casual). She encouraged me to bring more than one top, so if one color or neckline style didn't work, we could try another.

Her approach to posing, lighting, and shooting was fun and different from anything I had experienced in other photography studios.
Instead of issuing a routine series of posing instructions, Kim took a genuine interest in coaxing a more confident look and natural-looking smile. Because her camera was tethered to her computer, we immediately reviewed the results of the shoot so we could pick out the favorites as we went along. Seeing the results during the shoot helped me relax.
You can see the difference in the photo that Kim took in December 2018 and the photo I had taken in 2017.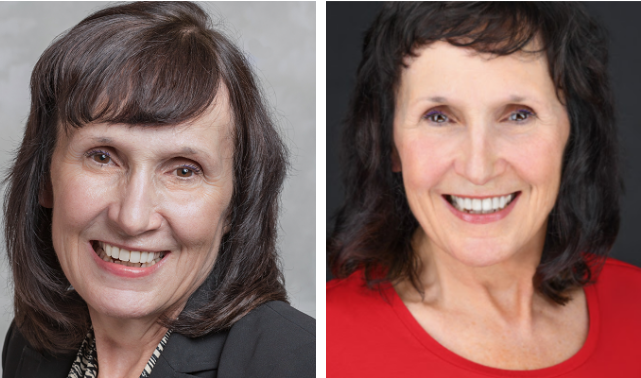 When I asked why her results are so striking, Kim reminded me that all photographers see things differently. Getting a good head shot may simply be a matter of finding a photographer who understands the type of image you want to project.
Kim studied head shot photography with Peter Hurley, a New York-based photographer who shoots head shots for well-known models, actors, media personalities, and corporate executives. Hurley wrote a book for professional photographers entitled, "The Headshot: The Secrets to Creating Amazing Headshot Portraits." He also founded The Headshot Crew, a global network of Hurley-coached headshot and portrait photographers.
So, if an unflattering head shot makes you feel uncomfortable, don't use an outdated photo, avatar, or cartoon to represent yourself online. Find a professional head shot photographer who understands the difference between a classic portrait and a contemporary head shot.
If you live in the Cincinnati/Northern Kentucky region (or travel here for business), check out Kim's work on her website: https://kdaltonphotography.com Or, find a member of The Headshot Crew in your city.

With an up-to-date head shot, you don't have to worry that your social-media connections or potential employers won't recognize you when they meet you face-to-face.