As a freelancer, I am never quite sure where my next writing assignment will lead me.
After being dazzled by the advances in digital printing technology displayed at the PRINT 13 show and SGIA Expo last fall, I spent November and December researching two articles on screen printing. Both articles were recently published and confirm that screen printing is still valued, both as an art and as a method of decorating garments.
SGIA Journal: Old School Screen Printing in the Digital Age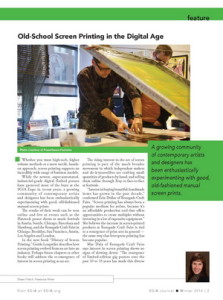 For the Winter 2014 issue of the SGIA Journal, I wrote about "Old School Screen Printing in the Digital Age" and the resurgence of interest in hand-made screen prints for concert posters and T-shirts.
The article originated after I interviewed some young screen-printing enthusiasts here in Cincinnati.  They are part of the much larger maker movement that is evident at events such Flatstock Poster Shows and  Renegade Craft Fairs in cities throughout the U.S. and Europe.  (Both the Flatstock Poster Show and Renegade Craft Fair will be held March 13-15, 2014 in conjunction with the SXSW Music Festival in Austin.)
Erin Dollar of Renegade Craft Fairs told me, "Interest in buying beautiful, handmade items has grown in the past decade, Screen printing has always been a popular medium for artists because it's an affordable production tool that offers opportunities to create multiples without investing in a lot of expensive equipment."
For the SGIA article, I talked to: Aaron Kent of DIY Printing and Pat Jones and Ben Nunery of Powerhouse Factories in CIncinnati; Carolyn Hartmann of OpenStudio DC in Washington, DC; Bill Fick of Supergraphic in Durham, North Carolina; Carlos Hernandez of Burning Bones Press in Houston; and Andy MacDougall of Squeegeeville in Vancouver, British Columbia.
They shared insights about the many different ways art schools, community art centers, and co-op printmaking studios are serving the growing number of designers and artists who want to try their hand at screen printing. Andy MacDougall has even written a book, called "Screenprinting Today: The Basics."
Hartmann told me that the designers who attend her screen-printing workshops like getting a little messy after spending all day at a computer. Hernandez notes that digitally savvy designers who can build a website in a few nights seem to relish the challenge of learning a medium that takes some time to master.
Read the full article here: SGIA Journal: Old School Screen Printing in the Digital Age 
The SGIA Journal is published by the Specialty Graphic Imaging Association, a trade association that originated as an association for screen printers.  The 2014 SGIA Expo will be held October 22-24 in Las Vegas. 
Wearables Magazine: Fast Screening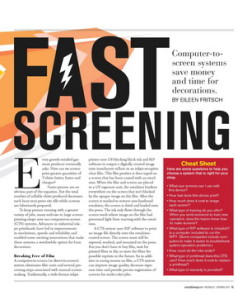 For the February, 2014 issue of Wearables magazine, I wrote about computer-to-screen (CTS) devices that merge the efficiencies of digital imaging with the cost advantages of high volume screen printing.  By inkjet-printing an image file directly onto an emulsion coated screen, a CTS system eliminates the need to make film positives.
Some of the newest CTS devices use industrial inkjet printheads to keep pace with the screenmaking demands of apparel-decorating companies that use one or more automatic screen-printing presses to produce higher volumes of decorated garments every day. If the automatic presses stand idle while employees make screens manually, companies can't maximize the return on their high-speed presses.
For this article I talked to equipment manufacturers such as Lawson Screen & Digital Products, the M&R Companies, and Exile Technologies. I also spoke to employees of screen-printing companies who use the equipment.
Read the full article here: Screen-Printing Success: Fast Screening
Wearables magazine is published by the Advertising Specialty Institute for 25,000+ suppliers and distributors of promotional products such as T-shirts, tote bags, and other gifts imprinted with an advertiser's logo or message. ASI studies show that promotional products such as custom-printed T-shirts, tote bags, and caps can be powerful advertising tools because recipients of these items keep them for months and wear them where the brand message can be seen by thousands of other people.  I wrote about the ASI study on my Creatives at Work blog: T-Shirts Can Complement Your Online Marketing.
 Screen Printing Magazine
Writing these two articles was a fun way to for me to learn how the screen printing process continues to be used.
Before I was named editor of The Big Picture magazine about large-format digital printing in the mid-1990s, I served as an assistant editor for Screen Printing magazine for a short time. In that role, I never became an expert on screen printing, but I did learn the basics. At that time, I spent a lot of my time studying how and why screen-printing studios might want to move certain types of projects to first-generation models of wide-format inkjet printers.
So, it has been astonishing to witness how rapidly inkjet printing has advanced from very slow, first-generation plotter-speed devices to fast, highly automated production-grade flatbed and superwide roll-to-roll presses that can handle a lot of the work formerly done on screen-printing presses. 
But screen printing technology has advanced, too. The process wouldn't be attracting so many young artists and designers without the substantial progress that has been made in making the process more environmentally friendly.