Even in this era of instant blog posts and short videos, there is still a place for long-form journalism. In my opinion, multi-source feature stories give readers a broader perspective of events and developments.
In 2017, I tackled a variety of assignments to inform printing business owners.  The SGIA Journal and Screen Printing magazine asked me to research and write feature articles about many markets, technologies, and trends that continue to shape the adoption and evolution of digital printing.
Opportunities abound for printing-business owners who want to differentiate their products and services. But business owners should pay close attention to the market forces that are continuing to change the types of printed services potential customers might require.
Below are some topics I wrote about in 2017 for the SGIA Journal and Screen Printing magazine.
The SGIA Journal is published by the Specialty Graphic Imaging Association for two distinct audiences: print-service providers that specialize in graphic communications and printing firms that decorate all types of apparel.
SGIA Journal – Graphic Edition
The Changing Role of Automotive Textiles
As technology transforms the auto industry, the interior design of cars is being re-imagined. Custom-printed upholstery seems to be taking a backseat to the development of smart, functional textiles and printed electronics that customize how the driver interacts with the vehicle. (March/April 2017)
Digital Asset Management Software: Retooled for Omni-Channel Marketing
Updated DAM software helps brands provide more consistent experiences at every point in the customer's buying process. Consistency is particularly important in product packaging as consumers begin to do more online shopping. If the printed packaging in the store doesn't match what the consumer has seen online, the consumer may wonder which version of the product is current or authentic. (May/June 2017)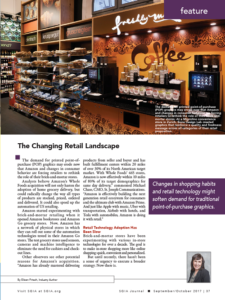 The Changing Retail Landscape
Store closures, changes in shopping habits, and in-store retail technologies might soften the demand for printed point-of-purchase graphics. With mobile communications, the point-of-purchase doesn't always have to be inside of a store. Augmented reality can convert an outdoor poster into a point-of-purchase graphic. (September/October 2017)
 SGIA Journal – Garment Edition
Are You Prepared for the Greening of the Supply Chain?
To meet changing customer expectations and regulatory requirements, many major retailers and brands are taking steps to verify that the products they sell to consumers will be manufactured in a sustainable manner. If you supply printed garments to big brands and retailers, get ready to answer specific questions about the sustainability of the manufacturing processes at your facility. (Summer, 2017)
Gearing Up for the Mass Customization of Apparel
The apparel industry is being pushed and pulled in different directions by consumers who are demanding something different and looking for less traditional buying channels to find it. A look at how some of the exhibitors at SGIA Expo are helping garment decorators prepare for shorter runs of a wide range of printed products. (Fall 2017)
Screen Printing Magazine
Screen Printing magazine is published by ST Media Group International for screen-printing enterprises that use digital printing to complement their work in producing graphics, art. apparel, promotional products, signage, electronics, and three-dimensional objects. My first feature article for Screen Printing magazine was published in 1994, when I wrote about Jon Cone's pioneering use of an IRIS inkjet printer for fine-art printmaking.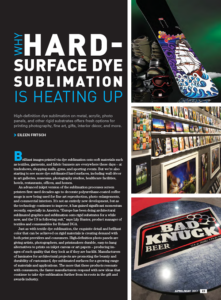 Whipping Your Data Into Shape
Why a management information systems (MIS) should be the central data repository for your screen printing business. (December 2016-January 2017)
Why Hard-Surface Dye-Sublimation Is Heating Up
High-definition dye sublimation on metal, acrylic, photo panels, and other rigid substrates offers fresh options for printing photography, fine art, gifts, interior decor, and more. (April/May 2017)
Single-Pass Inkjet's Next Challenge; The Wilde World of Decor
High-speed industrial inkjet technology is expanding into decor applications including laminate flooring, furniture, doors, wallpaper, and more. (June/July 2017)
Award Winning Article!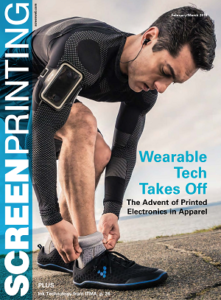 t the 2017 SGIA Expo, I received a "Best In Class" award in the technical writing competition of the SGIA/Academy of Screen and Digital Print Technologies. This article was voted "Best in Class" in the category of Specialty Graphics/Apparel & Textile/Digital Imaging.
Clothing Becomes Electric
Why screen printers should care about the development of apparel infused with electronics and circuitry. (February/March 2016)
Coming Up in 2018
In 2015 and 2016, I wrote feature stories about packaging, 3D printing, workflow automation, direct-to-garment printers, and compact UV-LED printers.
For 2018, I have written about the evolution of advertising agencies  and the rise of experiential marketing might affect print service providers. Another story examines how digital printing manufacturers have responded to the growth of the fast-fashion business.
As I research and write new feature stories, I will continue to provide related news and updates on printed-related topics on my two blogs: Printvergence and Creatives as Work.