The biggest perk of freelancing in the technology field is getting paid to research multiple topics. This often involves interviewing creative people with big and bold ideas.
That's why some of my favorite writing projects are "long-form" B2B magazine articles. I generally prefer writing for business audiences because business owners aren't seeking dumbed down "snackable" content. They want meatier stories that can help them understand the real-world risks and opportunities associated with potentially disruptive technologies.
In 2015, I researched and wrote feature stories for four magazines that serve business owners from the signmaking, screen printing, and large-format graphics communities: SGIA Journal; Sign Builder Illustrated; Screen Printing; and
Big Picture.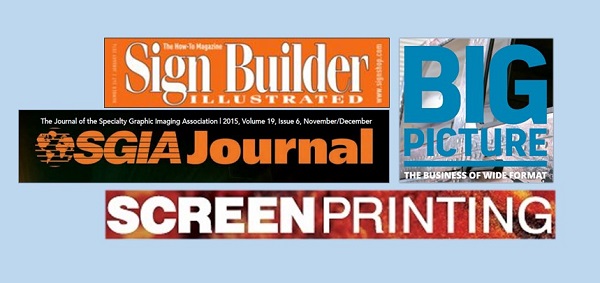 Some of the subjects I researched for these articles included:
automated production software for printing companies
dynamic scheduling software for large-format graphics firms
industrial inkjet printing systems for manufacturers of architectural glass, bottles, and textiles
advances in materials for creative, custom-designed wallcoverings
brand-building vehicle wraps for  local business owners
printed thin-film electronics for sportswear, haute couture, and healthcare
web-to-print software for screen printing businesses
As I researched these stories, I gained a much broader "beyond-the-printing-industry" perspective on some of the market forces behind mass customization, the Internet of Things, and the Internet of Places.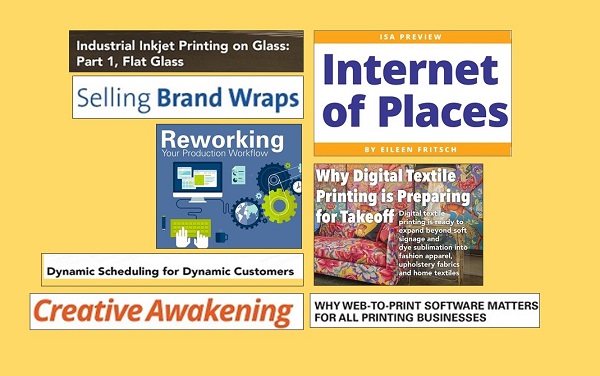 My interest in these topics doesn't end when I submit the assigned story.  And like many freelance writers, I am sometimes disappointed that print-magazine editors don't have enough space to publish all of the interesting tidbits I uncovered during my research.
Thankfully, the "blogosphere" gives me the freedom to continue to report on whatever topics pique my curiosity. So in 2016, I plan to publish additional information related to the latest developments in all of these fields. Stay tuned.
FOR MORE INFORMATION
SGIA Journal: Why Digital Textile Printing is Preparing to Take Off
SGIA Journal: Industrial Inkjet Printing on Glass, Part 1: Flat Glass
SGIA Journal: Recalcuating Return on Investment for Wide-Format Printing Systems
SGIA Journal: Reworking Your Production Workflow
Big Picture: A Creative Awakening in Wallcoverings
Big Picture: Gear Up for the Internet of Places – Preview of the International Sign Expo
Screen Printing: Why Web-to-Print Software Matters for All Types of Businesses