One reason I enjoy writing for the SGIA Journal is that I never quite know what assignment I'm going to get next.
Having followed the evolution and diversification of SGIA for many years, I usually start with some fundamental knowledge of most of the topics the SGIA Journal covers.
But researching each topic always provides an excellent opportunity to talk to fresh sources. Inevitably, I learn how rapidly things are changing — both in the business and technology sides of digital printing.
Two recently published projects exemplify the wide range of topics the SGIA Journal publishes to serve the diverse interests of SGIA members.
The Logistics of Imaging Licensed Materials
(Summer 2014: SGIA Journal-Garment Edition)
This article gives newcomers to the T-shirt printing business a quick overview of some of the intricacies of the licensed apparel business.  According to the book "The Basics of Licensing," by intellectual property attorney Gregory J. Battersby and Danny Simon, the licensing of brands, characters, sports team names, college logos, and artwork generates more than $100 billion a year at retail and more than $7 billion in royalties for license holders.
One source I interviewed for this piece was Trevor George, of Trevco Sportswear, a family-owned business produces about 150,000 T-shirts a month. When Jim George founded the company in 1990, Trevor says, "It was not difficult to acquire licenses" and screen printing was the most economical decorating process. In 2007, Trevco could only handle about 20 licenses, because they had to carry a certain amount of inventory in several body styles for each approved design.
Today, Trevco runs a highly automated facility with eight Kornit direct-to-garment printers. The company doesn't have to worry about having leftover inventory because they print and ship each order as it comes in. As a result, Trevco Sportswear now carries over 400 licensed properties from such brands as Warner Brothers, CBS, Paramount, NBC/Universal and Fox.
I plan to touch base with Trevor for my upcoming SGIA Journal story about workflow automation, because Trevco's workflow today is about 99% automated. I am interested to hear more about how they did it and what lessons they learned during the transition.
Using Software Controls to Reduce Ink Costs: Are the Benefits Worth the Risks?
(SGIA Journal, September/October 2014)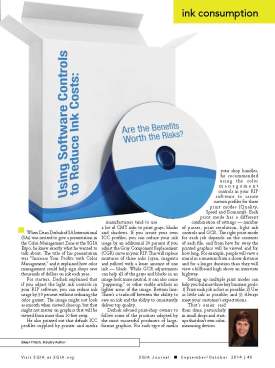 Companies that use wide-format inkjet printers to produce billboards, retail posters, museum exhibits, and trade-show displays can go through plenty of ink every month.
So in their quest to trim operating expenses, it's only natural that they would seek ways to reduce their monthly ink consumption.
Fortunately, software developers such as Caldera, Agfa Graphics, ErgoSoft, and Onyx have developed some tools that make it easier for graphics companies to limit the amount of ink used on certain types of jobs.
These ink-limiting tools can be useful if the graphics will be viewed quickly and from a distance. But if you're working on branding campaigns that demand the utmost in image quality and color consistency on every printed piece, then conserving ink might not be your wisest business decision.
Because I tend to "write long" after I interview multiple sources for a story, the SGIA Journal didn't have room to publish the detailed sourcelist I compiled to accompany this story. If you would be interested in receiving an updated version of this sourcelist after I get back from the SGIA Expo Oct. 22-24, please drop me a note at Eileen@eileenfritsch.com.
LINKS