As a freelance writer, it's fun to pursue a mix of local and national writing projects on a variety of intriguing subjects.
Locally, I write 1200-word human-interest profiles of authors, photographers, designers, and artists for my weekly "Cincy is Creative" series on WCPO.com. This project has helped me see how different generations of creative professionals are using some of the advances in digital imaging and printing technologies that I have been writing about since the 1990s.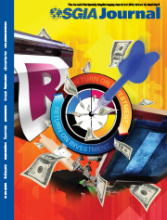 But I also enjoy tackling longer educational stories for B2B trade and association magazines – particularly technology-related business stories that challenge me to attempt to explain fields that are experiencing rapid innovation and expansion.
For example, in January I researched and wrote a product-round-up story that was published in the March/April issue of the SGIA Journal. The story outlines some of the business-management (MIS/ERP) software options that are now available to owners of specialty printing businesses.
Dozens of new options are being marketed to SGIA members partly because many SGIA members now recognize the need to become more automated in how they process and fulfill incoming orders. At the SGIA Expo last October, I talked to several graphics-business owners who were anxious to buy some sort of MIS/ERP software that can help them automate their estimating, job planning, shipping, invoicing, and financial reporting functions.
But another reason so many software options are being marketed to SGIA members is because the association's members come from so many different backgrounds and digitally print products ranging from documents and large-format graphics to billboards, vehicle wraps, and T-shirts.  Some SGIA members run small to mid-size sign shops or screen-printing firms while others manage large, multi-national printing enterprises.
There is no one-size-fits-all software solution that would meet the needs of every SGIA member.  
It's understandable that SGIA members want to make the best-informed decision possible. Some have learned from experience that setting up an accurate estimating system for a high volume of short-run, highly customized jobs can be daunting. Once a digital printing business gets locked into using a certain MIS/ERP system, it can be difficult (and expensive) to change.
Some graphics business owners have also learned that timing is everything. It's expensive to invest in products that aren't yet ready for real-world use. But being overly cautious or indecisive in a fast-moving market can leave their companies at a competitive disadvantage.
As I researched this SGIA Journal story, and interviewed multiple developers of MIS/ERP software, it quickly became clear why business owners might feel so overwhelmed by their options. Each software developer is continuing to add new functions and capabilities, and the pricing seems to be all over the map. In fact, everything seems subject to change.
So, I hope SGIA members can use the article to identify which programs might fit their requirements and continue doing more focused product research on their own.
In trying to be as comprehensive as possible, I wrote a story that ran almost 7,000 words and discussed 15 different programs. During the magazine layout stage, the editors eliminated entire sections of each product description and included just 13 of the products. As the former editor of a print magazine, I definitely understand why these cuts were necessary. As a contributor, I should have been more disciplined and limited the length of the original article.
But as a writer, I am grateful that online publishing gives me an opportunity to continue researching topics such as this one and publish the updated findings in e-book form.
Later this month, I will be attending the ISA Sign Expo, where I plan to visit the booths of some of the business-management software developers I interviewed for the SGIA Journal article. I won't be surprised to see that significant upgrades and changes have been made to the software I researched and wrote about in January.
If you would be interested in seeing the updated version of the full 7,000+-word article, please drop me a line and I will let you know when it's available.
If you have MIS/ERP software that should be included in this product round-up, please let me know.  Contact me at eileen@eileenfritsch.com
LINK
SGIA Journal: Profiling Business Management Software Options for Specialty Imaging, Signs, and Graphics